Artificial Grass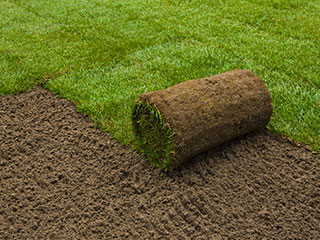 When you have a green lawn, you have a special private retreat where you can just sit back, meditate, and experience peace of mind. Aside from this, your outdoor space is also more favorable for outdoor activities, safer for kids, and more visually-appealing. However, the usual problem of property owners is maintaining their lawn's beauty and health since it requires hard labor and use of free time. The good news is that you don't have to go through such troubles since you can just go for an excellent alternative: artificial grass.

Rainbow Landscape & Pools can help property owners choose and install the finest artificial grass (also called synthetic grass/turf). We are experienced installers who use only top quality grass from the most trusted manufacturers, so you can expect a lawn that looks like the real thing. You may call 805-41952 to know more about our synthetic grass selection.


Benefits of Artificial Grass
The increasing number of property owners in the country who prefer synthetic grass over natural grass is not a cause of concern. We can't blame them: artificial grass offers many outstanding benefits that make them superior than the real thing. Here are some of the perks of choosing synthetic turf for your lawn:


Low maintenance. This is one area where synthetic grass reigns supreme. Unlike lawns planted with natural grass, artificial lawns don't require constant watering and mowing. In fact, you need not water it at all -- some sweeping of fallen leaves from time to time and you're good to go.
Eco friendly. Lawns made of synthetic grass aren't just easy to maintain, they are also friendly to the environment. No need for lawn mower or irrigation -- maintaining artificial lawns is essentially a no-brainer.
Cost effective. Unlike natural grass lawns replacing any damaged part of an artificial lawn is easy on the budget. This makes synthetic lawns truly cost effective and effortless to maintain.
Green all-year long. Natural grass will eventually wither during drought or winter, making it unsightly. This is not a problem with artificial grass since it will keep its vibrant green color no matter the climate.
Choosing the Right Type of Artificial Grass
Different types of artificial grass have varying features and applications, so it's better to first know more about the one you're getting. For example, nylon is recommended for putting greens, play pens, and areas with high foot traffic since it is a strong material. On the other hand, polypropylene is the cheapest alternative that is ideal for areas with low foot traffic such as pocket gardens. Now, if you want a synthetic grass variety that best resembles natural turf, then polyethylene is the best pick. It is very soft to the touch, yet highly durable, thus making it a perfect combination.

Our company offers budget-friendly installation of synthetic lawns. Be it a putting green, a mini garden, or a full lawn setup, we promise to use only the best-quality artificial grass from suppliers that we trust. Our highly experienced crews can complete the lawn installation process in a matter of hours or just a day, depending on the size of area to be covered. With us, you can look forward to a natural-looking and durable artificial lawn without worrying about costly lawn care and maintenance.

Call Rainbow Landscape & Pools today.
We Provide Services to the Following Cities, Towns and Surrounding Regions of Southern California: