Outdoor Kitchens & BBQs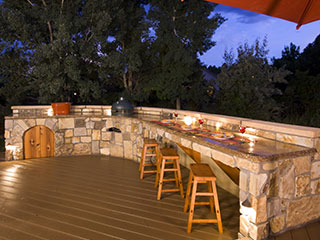 We design and build well-appointed, stylish, and functional outdoor kitchens and BBQ's for private properties and commercial establishments. Our company has installed many custom-made kitchens for clients across Southern California, thus making us well-trusted in these areas. At Rainbow Landscape & Pools, we value quality and we strive to achieve it each time we work on any outdoor kitchen and BBQ installation project. Please call us now for consultation or inquiries on our service rates.


Realizing Your Dream Outdoor Kitchen
Your outdoor kitchen must have all the amenities that your regular kitchen has for it to be truly functional. If you have the budget, we can setup an outdoor kitchen complete with all the amenities that your home's kitchen has. For many years, we have helped homeowners realize their dream outdoor kitchens and BBQ's. We talk to them, listen to their ideas, and suggest features that may enhance the beauty and function of the kitchen. By knowing what the client exactly wants, we're able to create kitchens that they enjoy using and take pride in owning.

When you hire us, we will make sure that your design needs are met. We can include, among others, heavy duty grill, freezer, sink, custom cabinets, a wine bar, and dining set. Rest assured that we'll make your kitchen a standout feature in your landscape – all without creating a big hole in your pocket.


Well-Designed Outdoor Kitchens & BBQs
We're known for our carefully designed outdoor kitchens and BBQ's that are functional, stunning, and durable. We can follow typical kitchen layouts such as U-shape, L-shape, split-level, ¾ square, and stand-alone. But, if you want a layout that's unlike any other, then we can go for a custom kitchen design with the amenities that you need. For example, you may choose between an open type and a roofed kitchen, or an attached or detached layout. We normally suggest the roofed design and detached layout, so you can prepare and enjoy meals regardless of the present weather. You could also request for specific features like built-in audio-visual setup, wine cellar, mini bar, or pizza oven.


Topnotch Outdoor Kitchen Products
As mentioned, we can add your choice of top-quality kitchen products and accessories. We can source everything from kitchen appliances to kitchen islands and BBQ grills. Our company has partner suppliers who provide us with premium kitchen appliance and utensils from top brands. You can have your desired freezer, kitchen cabinets, cutlery, grills, and other amenities – just let us know your requirements and we'll source them for you.


Your Dream Kitchen and BBQ on a Budget
Even if you have a limited budget to begin with, we promise to do everything we can to satisfy your demands. We can suggest cheaper alternatives that are comparable in functionality if your budget is small. But if your budget is on the higher side, then we'll have no difficulty sourcing your preferred brands. Regardless, rest assured that we will help you realize your dream outdoor kitchen and BBQ at the lowest possible project cost.

Please contact us today at 805-443-1952 and let's show you how we create stunning and functional outdoor kitchens and BBQ's.
We Provide Services to the Following Cities, Towns and Surrounding Regions of Southern California: