Water Features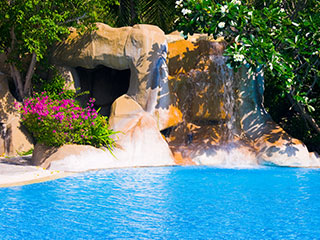 Among the specialties of Rainbow Landscape & Pools is water feature installation. For several years now, we have been creating beautiful water amenities for residential and commercial property owners in Southern California. We always satisfy the needs and desires of our clients by creating highly personalized outdoor amenities. Every water feature that we build is carefully planned and designed based on our client's needs and lifestyle. With this approach, we can build amenities that clients will love and enjoy for years to come. It is also proven that water features will improve the functionality and aesthetics of your landscape.

If you also want to have stunning water features in your property, please call us right now. You can hire us to build any type of water feature such ponds, waterfalls, fountains, and other outdoor structures with water element.


Finely Crafted Water Features
At Rainbow Landscape & Pools, we have experienced craftsmen who can design and build all kinds of water features. The impressive credentials that we have are proofs of our competency in this area. Moreover, our people have extensive experience in installing custom-designed water amenities, so they can easily transform your ideas into awesome water amenities. Most of our creations were built for property owners from Malibu, Calabasas, Thousand Oaks, Westlake Village, Ventura, Montecito, and surrounding areas. And we're proud of the many positive testimonials from our past clients. They commend us for our quality workmanship and ability to transform grand ideas into reality. They also like our upfront pricing and use of top-quality building materials and accessories. We also acquire the necessary tools and equipment to make our jobs easier and more efficient.

Meanwhile, the water features that we can design and build include but are not limited to the following:


Waterfalls
Ponds
Pondless waterfalls
Fountains
Artificial streams
Bubbling pots
Bird baths
Beautiful Waterscapes at Reasonable Costs
Creating beautiful waterscapes is a trademark of Rainbow Landscape & Pools. Once you hire us, you will be guaranteed of a beautifully waterscaped outdoors. Each water element that we install is carefully designed by our creative designers. They know how to transform your bare backyard into an outdoor oasis that is perfect for rest and relaxation. Aside from getting a more appealing outdoors, you are also guaranteed of therapeutic water amenities. The sound of flowing water will surely calm your senses and create a relaxing outdoor ambiance.

The great thing about hiring us is that you can enjoy all these benefits without breaking your bank. We can work within your budget, and still create awesome water features in your property. We will offer you different options and design proposals, so you won't have to worry about spending beyond your set budget. If you can't afford a grand waterfall with pond, we can just setup a smaller waterfall, a garden pond, or install a more cost-effective option such as installing bubbling pots. Any of these can serve as a focal feature in your backyard.

Please call 805-443-1952 today and let us talk about your dream water features.
We Provide Services to the Following Cities, Towns and Surrounding Regions of Southern California: