Fireplace / Fire Pit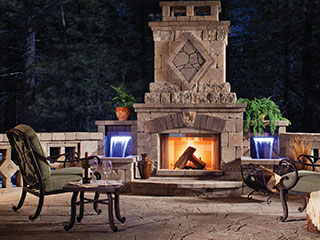 Every California home must have at least one fire feature installed for it to be truly completely functional. With it, the property owner can enjoy comfortable stay outdoors during chilly mornings and cold evenings. Such amenities essentially turn any outdoor space into an all-weather spot, making it more inviting and relaxing. If you need fire features such as fireplaces and fire pit, we can design and build them for you.

Our company has been creating finely crafted fire features for homeowners in Camarillo, Malibu, Thousand Oaks, Montecito, and other suburbs. Whether you desire a fire pit or you prefer a fireplace, our skilled crews can install it using your preferred material and following your design specifications. We can guarantee you a fire amenity that is outstanding in form, function, and durability, thus making it a truly worthwhile investment. Call Rainbow Landscape & Pools now for more information.


Stylish Outdoor Fireplaces
Our installers can install prebuilt or custom-made fireplaces. When you tap our services, we will help you choose the perfect spot for this feature and let you choose the type of fuel and design. Take your pick from these fuel options: natural gas, wood, gel, or ethanol. Meanwhile, you may choose whichever fireplace design you fancy – modern, Old World, or contemporary. We can provide you with photos of our past projects, so you may draw inspiration from them; or, we can just draw a design plan based on your existing ideas. However way you want your fireplace to look and be built, rest assured that we can achieve the outcome that you have in mind.


Long-Lasting Fire Pits
You may take your pick between portable and fixed fire pits depending on your specific needs. If you're the type who loves to spend time outdoors, then we recommend the fixed-type fire pit. On the other hand, if you seldom relax and get warmed up in your yard, a portable fire pit may be the ideal choice.

At Rainbow Landscape & Pools, we create fire pits that are guaranteed to have durable construction and top-quality materials – from bricks and concrete to various natural stones. By ensuring that only the finest materials are used to build each fire pit, we're able to guarantee their longevity and sturdiness. Meanwhile, we can make every fire pit fully functional by including all the accessories that our clients need – log holder, screen, grills, sitting walls, chairs, and the like. Just tell us your desired accessories and we'll include them in the fire pit that we'll build for you.


Outstanding Fire Feature Installation
At Rainbow Landscape & Pools, clients are assured of excellently installed fireplaces and fire pit. We follow the right installation process, the local building code, and the proper placement of your fire features, so you can enjoy all the benefits they can provide. We also include the necessary accessories to ensure your safety. Most importantly, you can have these outstanding features at an affordable cost – truly the best package that anyone can have.

Please dial 805-443-1952 and let's talk about your project specifications.
We Provide Services to the Following Cities, Towns and Surrounding Regions of Southern California: