Paver Driveways and Decks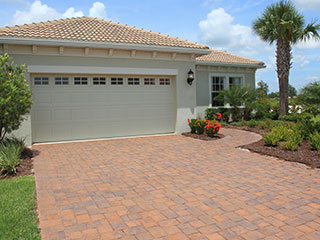 All outdoor amenities, such as paver driveways and decks, must be designed and installed by professional contractors. These features must be durable, weather-resistant, and attractive to serve their intended functions. Among the local contractors that you can trust for this kind of project is Rainbow Landscape & Pools. We have the required licenses and resources, so it's easy for us to design and build these paver features. We are also proud of our lengthy experience in paver installation and maintenance.

Rainbow Landscape & Pools is composed of seasoned landscapers, builders and artisans who can work on complex paving projects. Our paver specialists will ensure that your paver driveways and decks are not only attention-grabbing, but also functional and durable. We have the right tools and equipment, partner suppliers of premium paving materials and supplies, and use time-tested installation methods. With these resources and capabilities, you're assured of a driveway or deck that will be a source of pride in your property. Call us today at 805-443-1952 and let us talk about your project requirements.


Well-Built Paver Driveways and Decks
We are known in Southern California for our stunning and well-built paver driveways and decks. The large number of paving projects that we have completed for property owners in CA is a clear proof of our competency in this area. Clients choose Rainbow Landscape and Pools because they know that we can create the perfect paver driveway or pool deck in their property. In fact, the paver features that we have built for past clients are still in their prime conditions today. This is another proof that we're really capable of building tough and long-lasting outdoor amenities.

You, too, can have these kinds of amenities by calling us today. Rest assured that we'll use our resources and proven installation techniques to facilitate the completion of the project. We also follow systematic procedures to ensure the structural integrity of your paver driveway. We make sure that that it can withstand frequent vehicle and foot traffic. For paver pool decks, we use only slip-resistant paving materials from leading brands. We may use permeable pavers, which can help mitigate water runoff in the driveway or deck area.


Excellent Paving Materials for Driveways and Decks
Concrete pavers are always on top of our list because of their excellent qualities. First, this paver type is made from the finest raw materials and manufactured using the latest technology. Choosing your preferred design is not an issue since concrete pavers come in various textures, sizes, colors, and finishes. You can also create a themed driveway by selecting certain patterns and color combinations.

We also recommend clay bricks and stone paving for those who want unique but classy paver driveways and decks. These are tough materials, so expect paver amenities that will last for decades with minimal maintenance efforts. Your outdoor features will look elegant in all aspects because of the natural beauty of natural stones and bricks. If you're from Camarillo or residing in nearby area, we urge you to contact us today. We can design and build paver driveways, decks, and other paved structures at competitive costs.
We Provide Services to the Following Cities, Towns and Surrounding Regions of Southern California: