Swimming Pool Installation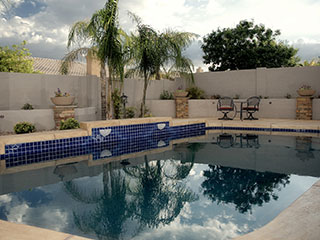 Adding a swimming pool in your backyard is always a good decision. This water feature will not only create a perfect spot for rest and relaxation but also make your property more appealing and functional. But before you install one in your property, make sure that you hire competent pool builders. Swimming pool installation is a major outdoor improvement project and it must be carefully planned to avoid problems in the construction phase. You will also need a huge budget if you want a grand pool design with complete amenities.

One of the pool builders in Southern California that you can trust is Rainbow Landscape & Pools. We are a licensed pool contractor so we have all the capabilities to build your dream swimming pool. We can install above ground pools as well as in-ground pools in residential and commercial properties. Our men have extensive experience in this field so they can work on any pool type that our clients may request. You can see some of our completed swimming pool installation projects in Camarillo, Malibu, Calabasas, Thousand Oaks, and Montecito. Our clients from these areas commend us for our ability to create exquisitely designed and professionally installed swimming pools. We are also popular among homeowners because of our competitive pricing. Contact us now to learn more about our rates and flexible terms.


Professional Swimming Pool Installation
At Rainbow Landscape & Pools, you are guaranteed of a hassle-free swimming pool installation. Your pool will be built according to your design specifications and established industry standards. We also make sure that the installation process is in accordance with the local building code. This means that you will be having a well-built pool that can last a lifetime. We can complete your project on time or even ahead of schedule since we have the right people for the job, complete tools and equipment, and access to premium pool materials and supplies.

As well-experienced pool installers, we can work on concrete, vinyl and fiberglass pools. Each pool type has its pros and cons so we always sit down with clients to discuss these things. A fiberglass pool is easy to install but the available design is limited. A good option is a concrete pool since it can be customized according to your desired design and style. You can specify the pool depth, size, and width to satisfy your needs. Our expert installers will guide you in the planning stage to ensure that you're getting your dream water amenity.


Custom Swimming Pool Designs
Do you want an infinity pool built inside your backyard? How about a stylish pool with therapeutic spas? You can have all these by hiring Rainbow Landscape & Pools today. Our pool designers can create all kinds of pools, whether in-ground or above ground. They will be designed based on your needs and personal preferences, so you will get a highly customized swimming pool. You can also request for specific pool amenities such as diving boards, slides, underwater lighting, fountains, waterfalls, pool decks and other pool accessories. Once we install your pool, you will surely enjoy all its features and amenities.

Please call 805-443-1952 today so we can discuss your ideas, plans, and budget for the swimming pool installation project.
We Provide Services to the Following Cities, Towns and Surrounding Regions of Southern California: