Landscape Design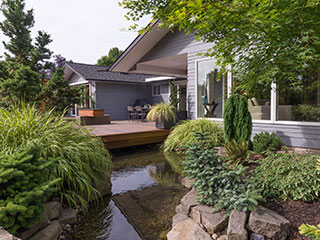 No property owner wants a drab, lifeless-looking outdoor that is all concrete and no greens. Our company has long advocated that commercial and private properties must also have a green outdoor space, no matter how limited the available space may be. As such, we have always recommend landscape design plans that offer a fresh and relaxing ambiance. We complement the green elements with beautiful outdoor living spaces for a complete package. As experts in designing landscapes, you can expect a standout property that is a veritable oasis you can be truly proud of. Call us soon to learn how we can make your property 'green' and 'in'.


Landscape Design Experts
Rainbow Landscape & Pools employs landscape design experts who have helped countless CA property owners enjoy lush landscape settings. In fact, we have successfully designed countless landscapes for clients in residential and commercial areas.

Our design process begins by first talking with clients and conducting onsite visits to gain valuable information. These first steps allow us to determine our clients' budget, the actual available space in their yard, the existing design of their property, and the possible elements and amenities that we can include in the design plan. We then prepare the initial plan using such pieces of information. Once done, we present it to clients for their approval and possible changes. Since we use computer design tools, revisions are effortless. When changes have been applied, we show the design to the client for their final approval. Only then will the installation begin, which we could also handle so clients need not hire another contractor.


Personalized Landscape Design Plans
One thing that separates us from other landscape design contractors is the degree and complexity of personalization that we can achieve. With us, clients are assured of highly personalized designs that results in unique and stunning landscapes. We create balance and harmony by recommending specific landscape elements such as softscapes, hardscapes, water features, and fire amenities. Our design team can also apply sustainable landscaping techniques such as xeriscaping, so clients can enjoy low monthly water bills.

With us, your personality will easily show in your landscape. Your guests will have a clear idea of your design taste since we can follow your specifications down to the smallest details. Rest assured that we can provide you with a 100 percent custom design proposal that will properly guide installers during the build phase.


Affordable Design Services
One thing that puts off potential clients is the exorbitant charges that some landscape design firms have. The good news is that our design services are guaranteed highly competitive and affordable. We have been the go-to place for clients who demand a high-quality design proposal, but without the hefty price tag. When you hire us, you can look forward to a professionally-designed landscape setting at a price that you can easily afford.

We urge you to call us now at 805-443-1952 to know more about our landscape design offering. Our friendly staff will be happy to assist you and schedule a property visit soon.
We Provide Services to the Following Cities, Towns and Surrounding Regions of Southern California: