Pavers / Retaining Walls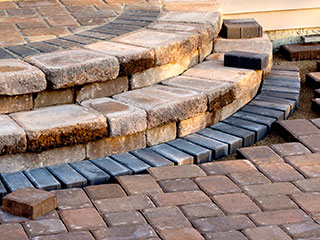 Pavers and retaining walls are common features in residential and commercial properties. They make outdoor spaces more functional, more appealing, and safer. Because of their popularity, a lot of property owners install them in a DIY manner. They use pavers on patios, driveways, walkways and other outdoor spaces using hand tools and rented equipment. Retaining walls are also installed for various reasons. Some people use them as soil erosion control structures, while others use them for decorative purposes. But the reliability of these structures may become questionable because of the skills of the DIY owners. If you also want to take the same path, please reconsider your plan. You should not compromise on the structural integrity of your outdoor structures just to save some dollars. Instead, look for qualified installers to get the job done.

The installation of pavers and retaining walls require skills, experience, and appropriate tools. You can only find these qualities from professional contractors like us at Rainbow Landscape & Pools. We adopt systematic procedures, follow industry standards, and adhere to strict quality control to ensure the reliability of each structure we build. Call our hotline today to get a free cost estimate.


Premium Quality Pavers
Our clients are assured of premium quality materials since we source our pavers from respected suppliers and manufacturers in the region. The pavers that we use are all durable and proven long-lasting, so you can enjoy your paver amenities for years to come. We can also install your preferred paver type such as concrete, bricks, or stones.

We highly recommend the use of pavers on these outdoor features and amenities:


Patios
Walkways
Driveways
Entryways
Courtyards
Sidewalks
Outdoor kitchens
Outdoor living spaces
Segmental Retaining Wall Systems
Majority of our landscaping projects involve retaining wall installation. This masonry feature is commonly used for improving safety in the outdoor area. It can prevent soil erosion in properties with slope areas or uneven topography. Aside from this vital function, retaining walls are also used for decorative purposes. They can improve the look of your garden and other features in the landscape. We can also help you create new outdoor living spaces by installing well-designed retaining walls.

Our company will ensure the structural integrity of your walls by using only tried and tested retaining wall system. We use the segmental type because of its outstanding qualities. It is not only easy to install, but also sturdy and stylish. When properly installed, your walls can handle extreme soil pressure and prevent erosion that can damage your home and landscaping. Achieving your desired theme or look for the wall is also easy since there are different designs available.


Expert Installers of Pavers and Retaining Walls
If you want reliable and competent installers of pavers and retaining walls, please call Rainbow Landscape & Pools. Our certified installers have extensive experience in paver and retaining wall installation projects. They have installed countless paver features for residential clients in Camarillo, Malibu, Calabasas, Thousand Oaks, Westlake Village, Ventura, Montecito, and other key areas in Southern California. Hire us now by calling 805-443-1952.
We Provide Services to the Following Cities, Towns and Surrounding Regions of Southern California: