Landscape Installation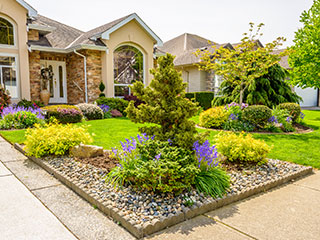 Rainbow Landscape & Pools is one of the leading landscaping firms in Southern California. We are the choice of many property owners in the region because of our topnotch landscape installation services. We offer them highly personalized service and affordable rates that only few landscaping companies can offer. You, too, can enjoy the kind of service that we offer by calling our hotlines today. Call 805-443-1952 to talk with one of our landscaping experts. You can also drop by at our Camarillo office to personally discuss the details of your landscaping project.


Trusted Landscape Installation Firm
As a rule of thumb, you should only get the services of a trusted and reliable landscaping firm. Getting the services of inexperienced contractors is a risky move, so it is still best to hire one with an impressive track record when it comes to landscape installation. As mentioned, among the local firms that you can trust is Rainbow Landscape & Pools. We have the experience, skills and the required resources to handle all kinds of landscaping projects. You can hire us to transform your bare backyard into a stunning outdoor oasis or improve the look of your current landscape by adding new softscapes and other interesting landscape elements. Our installation team is composed of seasoned landscapers and outdoor living specialists so you are guaranteed of outstanding workmanship and hassle-free project implementation. Aside from our licenses and industry certifications, we also have an impressive portfolio of completed projects.


Residential and Commercial Landscapes
Our extensive experience in the industry is one of the reasons why a lot of property owners choose our services. We have already completed countless landscaping projects for residential and commercial clients across Southern California. You can see some of our notable works in Malibu, Calabasas, Thousand Oaks, Westlake Village, Ventura, and Montecito. Our outstanding projects in these areas are proofs of our expertise in the field of landscaping and outdoor improvement. We always exceed the expectation of our clients by using all our resources, topnotch landscaping materials, and proven landscape installation methods and techniques.


Awe-inspiring Landscapes Guaranteed
At Rainbow Landscape and Pools, we have dedicated landscaping professionals who can help you realize your dream landscape setting. We will make sure that your newly installed landscape has all the features and amenities you need. We will include softscapes, hardscapes, fire features, waterscapes, outdoor living amenities, and wood elements to create a one-of-a-kind landscape setup. Our goal is to make each element or feature a focal point in your landscape. We can also build English-style gardens, tropical landscapes, or Japanese-inspired landscaping. Since water is a prized commodity in California, we make sure that your landscape is sustainable and eco-friendly. We highly recommend the use of Xeriscaping technique to achieve this objective.

Landscape installation is a major project, so it's vital to get a qualified and well-experienced landscaping contractor like us. If you choose us, you will be guaranteed of an awe-inspiring landscape with all your desired features and amenities. If you want to learn more about our services, please dial our hotlines now.
We Provide Services to the Following Cities, Towns and Surrounding Regions of Southern California: