Low Voltage LED Lighting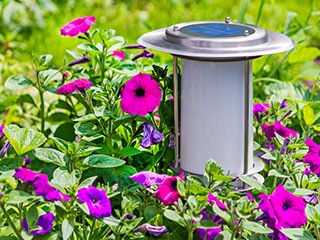 Our company offers professional outdoor lighting installation services for residential and commercial clients. We make landscapes and outdoor spaces more functional, safer, and awe-inspiring with our top-of-the-line lighting products and accessories. The lighting products that we highly recommend for homeowners are low voltage LED lighting. We prefer this type of lighting because it is energy-efficient, long-lasting, and offers other great benefits to the property owner. We also create the desired outdoor ambiance of our clients by applying various lighting methods and techniques. Some of the techniques we use include silhouetting, uplighting, moonlighting and wall washing. All these techniques are carefully and creatively applied to achieve a well-lit but enchanting outdoors. Your landscape can also have this kind of lighting setup by calling Rainbow Landscape & Pools right now.


LED Lighting Installation by Certified Technicians
Rainbow Landscape & Pools employs certified technicians who are well-experienced in low voltage and LED lighting installation. Their portfolio includes lighting projects for residential and commercial properties in CA. They can design custom lighting setups, perform upgrades on existing lighting installations, and maintain outdoor lighting for different types of properties. With their unmatched expertise, you are always guaranteed of a fully functional and highly efficient outdoor lighting. This capability is one of the reasons why we are the choice of many property owners in Southern California, particularly residents of Malibu, Calabasas, Thousand Oaks, Westlake Village, Ventura, Montecito, and nearby areas. All of them are more than satisfied with how we perform and complete the project. If you want to get in touch with our past clients, please feel free to call us. We are confident that they will provide positive feedback on our workmanship and our ability to create reliable outdoor lighting setups.


Energy Efficient Landscape Lighting
Traditional outdoor lighting consumes too much energy, which typically results in high monthly utility bill. Maintenance cost is also high because of frequent bulb replacement. But here at Rainbow Landscape & Pools, we have an excellent option for those who are concerned about their monthly expenses. We can dramatically reduce your energy consumption by installing energy efficient landscape lighting. We use modern lighting products, particularly low voltage LED lighting, to help you save money and minimize your maintenance cost.

Low voltage LED lighting offers other great benefits that every property owner will surely enjoy and appreciate. Here are some of them:


led lights are 80% more energy-efficient than traditional lighting
up to 70 percent savings on energy cost
low voltage lighting system is safer to use than high voltage systems
risk of electrocution is dramatically reduced
LED lighting last longer than traditional lighting products
safe to install near softscapes and heat sensitive plants
versatile lighting fixtures
available in various styles and designs
durable lighting fixtures since most products are made from brass and copper
environment friendly

You can highlight the beauty of your landscape and improve its functionality by letting us install low voltage LED lighting in strategic areas. You don't have to worry about the installation cost since we're offering our services at client-friendly rates. Call us now at 805-443-1952.
We Provide Services to the Following Cities, Towns and Surrounding Regions of Southern California: