Swimming Pool Design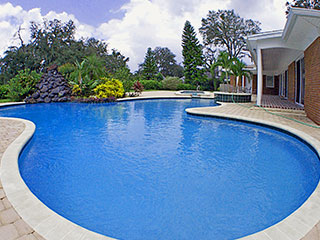 One excellent add-on to any property is a swimming pool. If you're thinking of having one, it's vital to let professionals design this kind of water feature. In the hands of skilled people, you can expect a pool that is stylish, functional, and long-lasting. We at Rainbow Landscape & Pools offer swimming pool design services for both residential and commercial clients. We have handled the most challenging design jobs possible throughout our more than two decades of experience in the industry. Our company specializes in custom-designed swimming pools that greatly enhance the aesthetics and functionality of our client's landscape spaces. We urge you to call us soon to discuss your pool design requirements and help you realize your dream swimming pool.


Custom-Designed Swimming Pools
These days, more and more property owners demand a pool that captures their unique personality and meets their demands for functionality and safety. And if you're one such type, then you really need to hire experienced designers for your pool installation project. With a skilled and highly creative designer, you have absolute free rein on how your swimming pool will look like. You can choose the specific materials to be used, the exact theme to be adopted, and practically anything else that you want, including the amenities to be included.

These are just some of possible pool amenities that we can include when creating the swimming pool design plan:


Fire pit. Now, this may look counter-intuitive at first, but you'd be surprised that many property owners do request for a fire pit in their pool area. So, after dipping in the cool water of your pool, why not lie on a lounge chair and get warm and comfy beside a fire pit?
Pool furniture. A collapsible or built-in cabana in your deck area can be a welcome addition to your pool if you need some shade after swimming. We can also add lounge chairs and beds for a truly relaxing stay.
Outdoor dining set. Why not enjoy meals or some refreshments in your pool area with a stylish outdoor dining set? This amenity is a typical addition to our swimming pool design plan.
Water slide. While this may cost a few extra dollars, having a mini water slide will make your pool more fun and inviting – especially for the kids!
Pool lighting. We can make your pool stunning even at night with dedicated lighting fixtures. We will include underwater lighting and other specialty lighting around your pool area to make your water feature safe and attractive during the night.
Modern Swimming Pool Design Tools
We're able to create awe-inspiring pools using modern design tools. Our designers use the latest software that allows for quick design, easy revisions, and full-color design renders. With the design plan that we can create, you can easily visualize all the features of your pool before installation. This way, you can request for changes that you deem important to ensure that your pool will be built exactly the way you wanted.

Interested? Please call 805-443-1952 today and we'll answer all your questions about our swimming pool design service. We guarantee competitive pricing with outstanding results that you'll be happy about.
We Provide Services to the Following Cities, Towns and Surrounding Regions of Southern California: